Page 2 of 2 •
1, 2
I returned and brought news related to the project. I'm redoing some moves to make the graphics more harmonious and less robotic. Finally I finished the base of the big portrait. Still need to touch up, but already gives an idea of the result.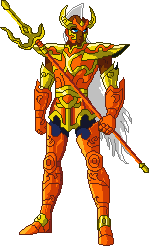 I got redraw the sprites of Maha roshini. The hair design needed to be improved. After a few tries, I finally hit the point.


Another novelty is the krishna stage. Let's do a new stage. After several attempts, I finally got a good base for the stage. We'll need to pixelate and redraw some parts. Follow below a picture.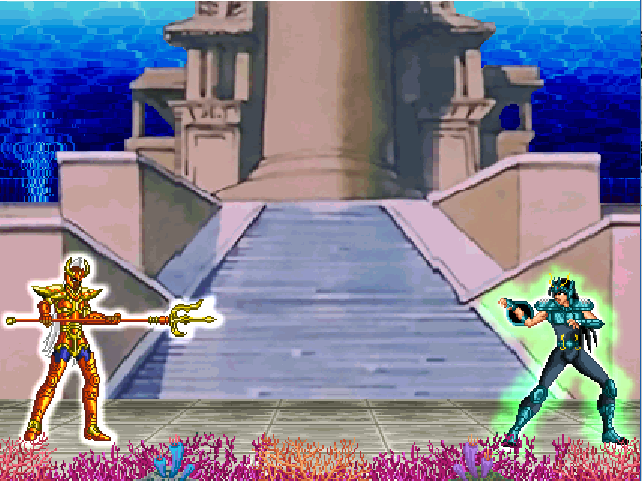 Well let's finally show the graphic progress. The graphics despite being still in 150 sprites had improvements. Remember that we are improving some existing movements.
chart progress/ progreso gráfico
MOVIMIENTOS BÁSICOS (15/31)
Stand 1 : TERMINADO
Stand 2 : TERMINADO 
Stand Agachado: TERMINADO
Giro stand : TERMINADO  
Giro agachado : TERMINADO  
Agacharse : TERMINADO  
Levantarse : TERMINADO  
Caminar adelante : TERMINADO
Caminar atras : TERMINADO  
Inicio de Salto : TERMINADO  
Caer : TERMINADO  
Saltos : PENDIENTE  (3 movimientos)
Correr : TERMINADO  
escapar : PENDIENTE
Cubrirse :  TERMINADO
golpes de lanza: EM CURSO  ( 1 movimiento)
golpes de Patada parado : PENDIENTE ( 1 movimiento)
golpes de lanza agachado : PENDIENTE ( 1 movimiento)
golpes de Patada agachado : PENDIENTE (3 movimientos)
golpes de lanza aire : PENDIENTE (3 movimientos)
golpes de Patada aire : PENDIENTE (3 movimientos)
golpeado parado (5000-5002) : EM CURSO ( 3 sprites pendentes)
golpeado parado (5010-50012) : PENDIENTE ( 4 sprites pendentes)
golpeado agachado (5020) : EM CURSO (2 sprites pendentes)
golpeado aire (5030-5032):PENDIENTE (6 sprites pendentes)
golpeado aire (5040-5042): PENDIENTE (3 sprites pendentes)
golpeado aire (5060-5062): PENDIENTE (3 sprites pendentes)
golpeado aire (5070-5072): PENDIENTE (3 sprites pendentes)
levantarse (daño)  : TERMINADO
Mareado : PENDIENTE
K.O.: TERMINADO  
EVENTOS -3/11-
Intro – PENDIENTE
Intro2 – PENDIENTE
Intro3 – PENDIENTE
Intro4 – PENDIENTE (Only round 2)
Provocación – TERMINADO
Provocación2 – PENDIENTE (may not have)
Lose by time – EM CURSO
Win 1 - TERMINADO
Win 2 – PENDIENTE
Win 3 – PENDIENTE
Continue - TERMINADO
PODERES COMUNES Y COMBOS (3/9)  
Recarga de cosmo: PENDIENTE
Fireball parado: TERMINADO
Fireball air: PENDIENTE
ataque secuencial (lanza) – TERMINADO
lanza de rotación: PENDIENTE
lanza air rotación : PENDIENTE
aire totura (lanza):  PENDIENTE
lança intermitente : PENDIENTE
Chute giratório - TERMINADO
HYPERS (SPECIALES) (4/9)
explosión de cosmo (septimo sentido) : EM CURSO
múltiple ataque con lanza (anime) – TERMINADO
Flashing Lance (anime/manga) – EM CURSO
Flashing Lance (Brave soldiers) – PENDIENTE
Maha Roshini con armadura – TERMINADO  
Maha Roshini sin armadura - TERMINADO
Maha Roshini sin armadura  V2 – EM CURSO
Muro Invisible – TERMINADO
Fatality – PENDIENTE (An alternative version can be created)
Quantidade de Sprites:  150/500 (30%)
Code: 47/60 - 78% (planning is almost complete. Only two questions need to be decided)
Sonidos (Latino) - 100% (Mario 84 & Orion13estrelas)
Total = 69%/100%
Stage percentage = 50%

Orion

5 ESTRELLAS





Country

:



Zodiaco

:

---

Mensajes/ Messages

: 411


Fecha de inscripción/Registration date

: 2015-01-29




Aragon

RANGO





Country

:



Zodiaco

:

---

Mensajes/ Messages

: 191


Fecha de inscripción/Registration date

: 2015-11-18



Great news orion


bigboss9999

RANGO





Country

:



Mensajes/ Messages

: 99


Fecha de inscripción/Registration date

: 2015-02-06



Page 2 of 2 •
1, 2
---
Permissions in this forum:
You
cannot
reply to topics in this forum