Merry Christmas
While the new materials are not ready, we prepare a surprise for you. We've updated the Black Saint game developed by MARKGZ. Now you can switch your chars in full battle. The TAG system is based on the latest update of Shiyo Kakuge. As an innovation of previous versions, we have a scoring system. In addition we have other improvements:
- Code complements in the def file of the mugen.
- The weight of the game has been reduced by 50%.
- All chars use the code Remapal
- Bonuses were deleted because they still have problems in TAG mode. (There is a solution, but I have not had time to study yet.)
- Game Intro changed (soon of the elecbyte and mugen.)
- Custom executable files.
Any questions just write in this section, but read the tutorial to avoid unnecessary questions.
We hope you enjoy the experience and especially the present.
Greetings and good fun.
;-------------------------------------------------------------------------------------------------------
Feliz Natal!
Enquanto os novos materiais não ficam prontos, preparamos uma surpresa para vocês. Atualizamos o game Black Saint desenvolvido pelo MARKGZ. Agora você pode alternar seus chars em plena batalha. O sistema TAG está baseado na ultima atualização de Shiyo Kakuge. Como inovação das versões anteriores, temos um sistema de pontuação. Além disso temos outras melhorias:
- Complementos de códigos no arquivo def do mugen.
- O peso do game foi reduzido em 50%.
- Todos os chars usam o código Remapal
- Os bônus foram excluídos por ainda apresentarem problemas no modo TAG. (Tem solução, mas ainda não tive tempo para estudar.)
- Intro do Game mudada (logo da elecbyte e mugen.)
- Arquivos do executável personalizados.
Qualquer dúvida bastam escrever nessa seção, mas leiam o tutorial para evitar perguntas desnecessárias.
Esperamos que gostem da experiência e principalmente do presente.
Saudações e bom divertimento.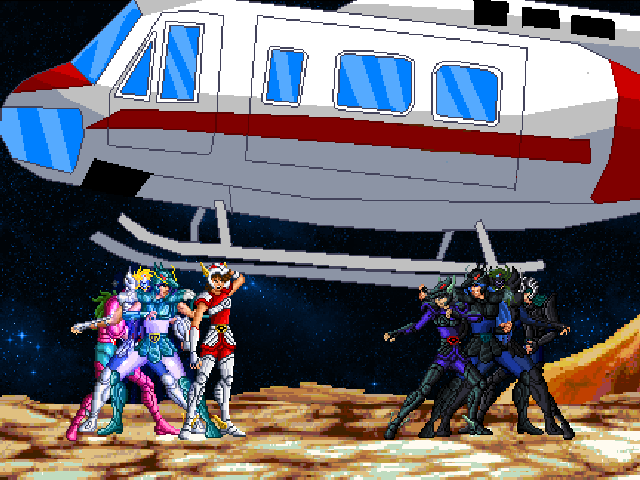 DESCARGAR/DOWNLOAD

Orion

5 ESTRELLAS





Country

:



Zodiaco

:

---

Mensajes/ Messages

: 930


Fecha de inscripción/Registration date

: 2015-01-29



---
Permissions in this forum:
You
can
reply to topics in this forum