LECCIONES DE DIBUJO
Concepto: tanto el arte que enseña a dibujar, como la delineación, figura o imagen ejecutada en oscuro y claro; toma nombre de acuerdo al material con el que se hace.​ Es una forma de expresión gráfica que plasma imágenes sobre un espacio plano, considerado parte de la pintura y una de las modalidades de las artes visuales. Se considera al dibujo como el lenguaje gráfico universal y ha sido utilizado por la humanidad para transmitir ideas, proyectos y, en un sentido más amplio, sus ideas, costumbres y cultura.
---
Paso 1: Sacar  el sprite del editor de chars (fighter factory u otro)  en este caso empecemos con las rodillas y  piernas utilizamos un color totalmente diferente del char para no revolver(que resalte) lo editamos en paint, coloreamos sin salirnos de los contornos originales, para no perder proporción, repintamos los contornos de los pies de otro color.
Paso 2: Dibujamos la parte del muslo que tiene en la versión omega, redibujamos el cinturón, seguimos con el nuevo chaleco lo dibujamos con un color diferente y fuerte.
Paso 3: Rellenamos dentro del contorno, dibujamos la parte del pecho y brazos, rellenamos todo. Ahora dibujamos el contorno de las hombreras
Paso 4: Rellenamos las hombreras, modificamos el casco(es diferente al original),ahora dibujamos los ojos con un par de pixeles blancos y color piel, seguimos con las joyas en los codos
Paso 5: Ahora usamos los colores que realmente llevan en tonos gris, verde y lila, marcamos todos los contornos con sus colores incluyendo el negro del chaleco.
Paso 6: Dibujamos el cinturón y coloreamos las joyas con tonos verdes y un punto claro para el brillo, también sombreamos las hombreras con un tono mas.
Paso 7: Seguimos sombreando las hombreras con mas tonos del mas oscuro al mas claro, hasta que hayamos terminado de sombrear se colocan las divisiones de las hombreras.
Paso 8: Agregamos las siguientes capas de grises a la armadura (primero los oscuros hasta los mas claros).
Paso 9: Dibujamos en otro color que resalte los tobillos y pantorrillas, coloreamos los tonos negros.
Paso10: por último se revisa si hay detalles de proporción o algún cambio y agregamos las guarras
en tonos blanco y gris.
NO OLVIDEN GUARDAR SU IMAGEN EN .BMP O PCX PARA MUGEN.
PARA SUBIR AL FORO EN .PNG PARA NO PERDER CALIDAD DE IMAGEN.
DRAWING LESSONS WITH SIMPLE PAINT FOR MICROSOFT WINDOWS !!!
Step 1: Remove the sprite editor chars (fighter factory or other) in this case we start with the knees and legs use a totally different color char Non revolver (to highlight) edit it in paint, we color without leaving the contours original, not to lose proportion, repaint the contours of the feet of another color.
Step 2: Draw the thigh that is on the omega version redraw the belt, we continue to draw new vest it with a different and strong color.
Step 3: Fill in the outline, draw the chest and arms, fill everything. Now draw the outline of the pads
Step 4: Fill the pads, modify the helmet (it is different from the original) now draw eyes with a pair of white pixels and color skin, we continue with jewels on elbows
Step 5: Now we use the colors that actually carry in gray, green and lilac, all contours marked with colors including black vest.
Step 6: Draw the belt and we colored jewels with greens and a clear point for brightness, also we shade the pads with a tone more.
Step 7: We shading the pads with more tones darker to lighter, until we have finished shading divisions shoulder pads are placed.
Step 8: We add the following layers of gray to the armature (first dark until the clearest).
Step 9: Draw in another color that highlights the ankles and calves, we colored black tones.
Step 10: Finally it checks for details of proportion or some change and add the claws
black and gray tones.
DO NOT FORGET TO SAVE YOUR PICTURE FOR BMP or PCX MUGEN.
FOR UP TO FORUM FOR NOT LOSE  IMAGE QUALITY. PNG
RESULTADO: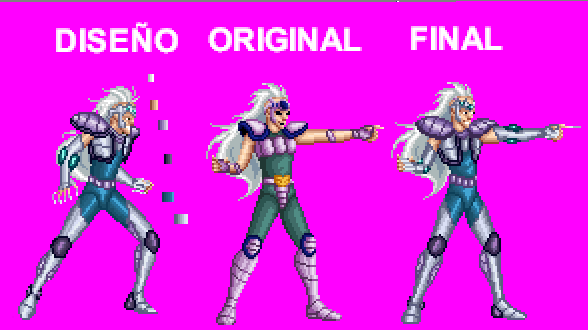 ---
Base: Zazie
Last edited by Master-Shion on Sun Feb 17, 2019 2:34 pm; edited 8 times in total
__________________________________________________
Diviértete y da
en el portal del foro

.
muy buena enseñanza yo soy se puede decir primerizo haciendo ediciones y esto me va a servir mucho gracias por compartir este tipo de enseñanzas me pongo a practicar enseguida

carpa5

RANGO





Country

:



Mensajes/ Messages

: 23


Fecha de inscripción/Registration date

: 2016-01-06



Oh bien este estilo esperanza de tener éxito

Ansur

RANGO





Country

:



Mensajes/ Messages

: 11


Fecha de inscripción/Registration date

: 2016-02-23



__________________________________________________
Diviértete y da
en el portal del foro

.
---
Permissions in this forum:
You
can
reply to topics in this forum