Hello friends,
Let's go to one more lesson. Unlike the Winmugen version, changing the palettes on a char saved in 1.0 and 1.1 involves different paths. How to tell if a char is saved in 1.0 or 1.1 format?
For this, we have to open the char in an auxiliary program. For this use the 2012 version 3.0 of Fighter factory. (It is not recommended to use the current version, the feature we are going to use been lost.)
I'll use the Seiya V1 of Tecla2000 as an example. With open char let's identify some things.
In the def file, we notice that in the line mugenversion the programmer declares that the char is to be opened in version 1.1 of mugen.
In the pal defaults line, we notice that there are 12 palettes programmed in the char. With that in mind, let's go to the sff file part. Make sure sff is also saved 1.1 or 1.0, after all this method is not accurate to be used in universal mode (winmugen).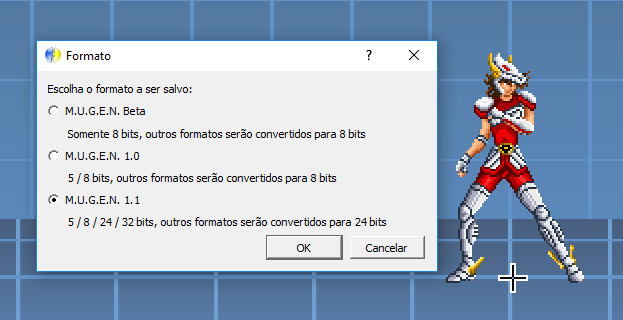 Note that in the Palettes area there is a numbering from 1 to 156 colors. This represents the diversity of images in various colors used by Char. As the author programmed 12 palettes, references 1 through 12 in 1 through 156 are relative to the palettes in pixels of the char.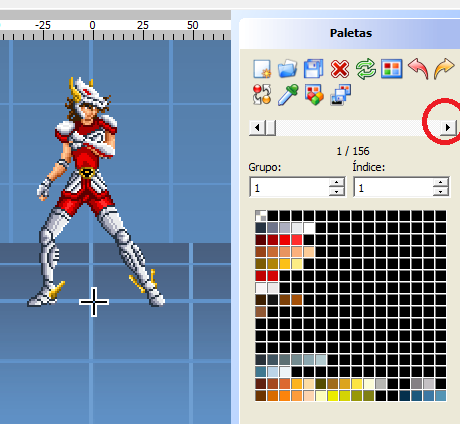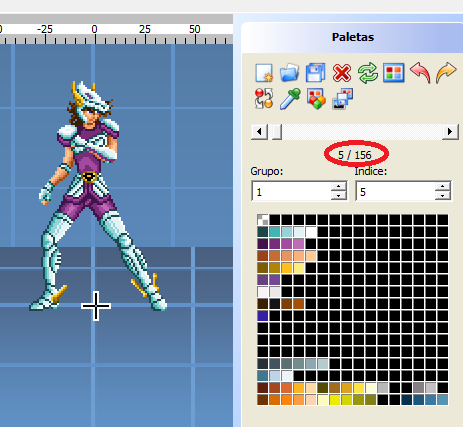 Let's stay in the fifth reference. Suppose you did not like the palette and want to change.
Now we'll change the palette colors. I'll use green layers.
Notice how the armor of the Seiya V1 was.
Before
After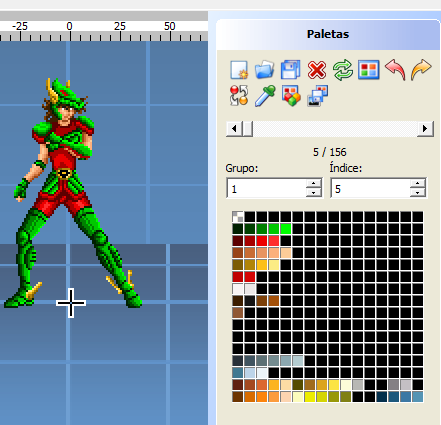 Save the changes you made to sff. After that, return to the fifth reference and save the fifth palette as a precaution.
One hour you may want to return the char to the universal format, either to clear references no used
(images that were deleted in sff while it was in 1.0 or 1.1 format) or even
to migrate it to the winmugen format.
Backup of the palettes is important because every time you convert the 1.1 or 1.0 char
for winmugen, you lose the reference of all the palettes except the first one of the reading. So always have a folder with them saved. Each palette weighs 1KB. As much as you have 200 characters, that's not what will make your mugen heavy.
In addition, the backup will save you headache from having to rebuild them in case you want to return from winmugen to 1.0 or 1.1.
I hope I have helped you.
;---------------------------------------------------------------------------------------------------------------
Olá amigos,
Vamos a mais uma lição. Diferente da versão do Winmugen, alterar as paletas em um char salvo em 1.0 e 1.1, envolve caminhos diferentes. Como saber se um char está salvo no formato 1.0 ou 1.1?
Para isso, temos que abrir o char num programa auxiliar. Para isso use a versão 3.0 de 2012 do Fighter factory. (Não é indicado usar a versão atual, o recurso que vamos utilizar se perdeu.)
Vou utilizar o Seiya V1 do Tecla2000 como exemplo. Com o char aberto vamos identificar algumas coisas.
No arquivo def, percebe-se que na linha mugenversion o programador declara que o char é para ser aberto na versão 1.1 do mugen.
Na linha pal defaults (Paletas padrões), percebemos que existem 12 paletas programadas no char. Com isso em mente, vamos à parte do arquivo sff. Verifique se o sff também está salvo 1.1 ou 1.0, afinal esse método não tem precisão de ser usado no modo universal (winmugen).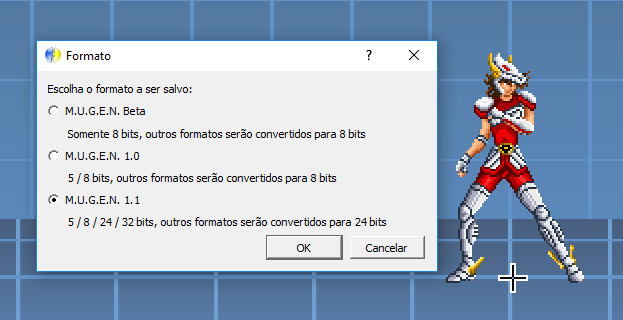 Observe que na área de Paletas existe uma numeração de 1 a 156 cores. Isso representa a diversidade de imagens em variadas cores utilizadas pelo Char. Como o autor programou 12 paletas, as referências 1 a 12 em 1 a 156 são relativas as paletas em pixels do char.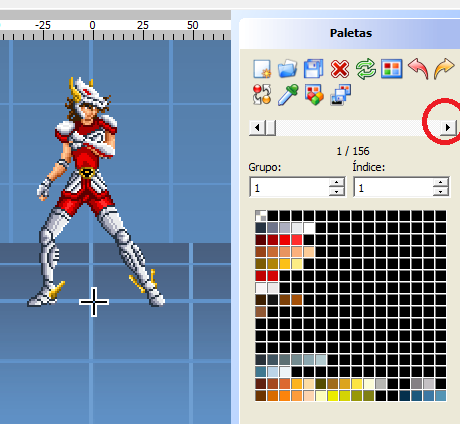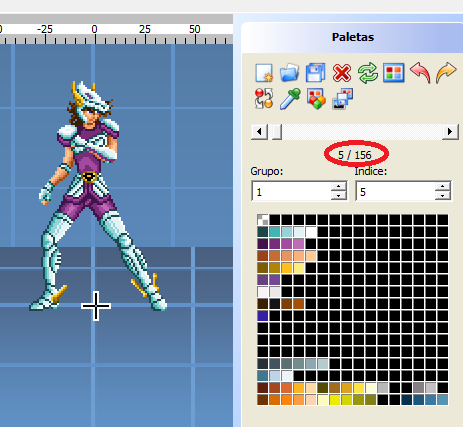 Vamos ficar na quinta referência. Suponha que você não gostou da paleta e deseja mudar.
Agora alteraremos as cores da paleta. Vou utilizar camadas verdes.
Observe como ficou a armadura do Seiya V1.
Antes
Depois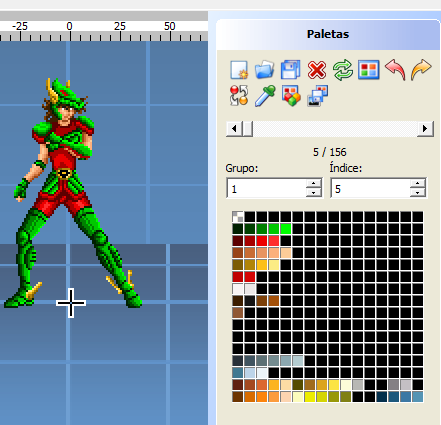 Salve as alterações feitas no sff. Após isso, volte a quinta referência e por precaução salve a quinta paleta.
Uma hora você pode querer retornar o char para o formato universal, quer seja para limpar as referências não
utilizadas (Imagens que foram excluídas no sff enquanto ele estava no formato 1.0 ou 1.1) ou mesmo
para migrá-lo para o formato winmugen.
O Backup das paletas é importante, pois toda vez que você converte o char de 1.1 ou 1.0
para winmugen, você perde a referência de todas as paletas exceto a primeira da leitura. Por isso, sempre tenha uma pasta com
elas guardadas. Cada paleta pesa 1KB. Por mais que você tenha 200 personagens, não será isso que fará seu mugen pesado.
Além disso, o backup vai lhe poupar dor de cabeça de precisar reconstruí-las, caso você queira retornar de winmugen para 1.0 ou 1.1.
Espero ter lhe ajudado.

Orion

5 ESTRELLAS





Country

:



Zodiaco

:

---

Mensajes/ Messages

: 930


Fecha de inscripción/Registration date

: 2015-01-29



Orión buen día...

Nos podrías pasar tu versión de FF, yo ocupo el FF3 y el FF1 pero son diferentes, el FF1 aparece esa pantalla de paletas pero no soporta Mugen 1.1 y en FF3 que yo tengo no aparece así la pantalla de paletas.

Lobo Azul

5 ESTRELLAS





Country

:



Zodiaco

:

---

Mensajes/ Messages

: 913


Fecha de inscripción/Registration date

: 2015-07-12



I use the 2012 version for custom, but the ideal is to use the 2013 version. You can change the language within the program in the tools option. This version has the capabilities of saving the sff in different formats, plus a surper-interesting of cut out the borders of all the sprites of the char. Time or other I'm migrating through the versions. In fact already should do the tutorial on the different versions, more laziness hits ... hehehe
mediafire.com file/rleabamr2pr18o4/Fighter+Factory+3+x86.rar
(2013)

Orion

5 ESTRELLAS





Country

:



Zodiaco

:

---

Mensajes/ Messages

: 930


Fecha de inscripción/Registration date

: 2015-01-29



---
Permissions in this forum:
You
can
reply to topics in this forum