Alguém tem o link desse char medusa novo

jusinho

RANGO





Country

:



Mensajes/ Messages

: 18


Fecha de inscripción/Registration date

: 2015-04-03



jusinho wrote:Alguém tem o link desse char medusa novo
We have an improved version in progress with the author's permission. There are a few things to fix in AI. Patience, there are two people working on solving the problem, and that requires studies on codes of the engine mugen.
Anyway, there is everything for Improvements to be published this year. When, we solve the problem of AI and we go publish it. Meanwhile, in mugenarquive has a copy of the 1st version published by the author.
Greetings.
;---------------------------------------------------------------
Temos uma versão melhorada em andamento com a autorização do autor. Falta consertar algumas coisas na AI. Paciência, tem duas pessoas trabalhando na resolução do problema e isso exige estudos nos códigos da engine.
De toda sorte tem tudo para as melhorias serem lançadas esse ano. Assim, que resolvermos o problema, vamos publicar. Enquanto isso, no mugenarquive tem uma cópia da 1° versão publicada pelo autor.
Saudações.

Orion

5 ESTRELLAS





Country

:



Zodiaco

:

---

Mensajes/ Messages

: 832


Fecha de inscripción/Registration date

: 2015-01-29



Hola a todos el char tendrá algunos sprites nuevos con poderes nuevos con los caballeros de los abismos del otro char, dejo una animación.
También estaré avanzando con el char  Lucifer, pronto subiré mas avances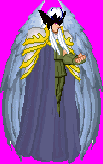 __________________________________________________
Diviértete y da
en el portal del foro

.
---
Permissions in this forum:
You
cannot
reply to topics in this forum